Posted by Gensace Tattu on Sep 6th 2022
Let's toast to autumn!
Autumn is the season of harvest and comfort, and its arrival also signals the coming of many wonderful holidays. Therefore, Gens ace & Tattu celebrate with friends by bringing a new product at a low price - Imars Dual!
Starting Labor Day, you can get the Imars Dual Channel Charger for $118 at the US Official Shop! How cool is it to bring a compact charger to power your RC hobby, whether outdoors or indoors, and not have to take carrying issues into account! So don't miss this opportunity!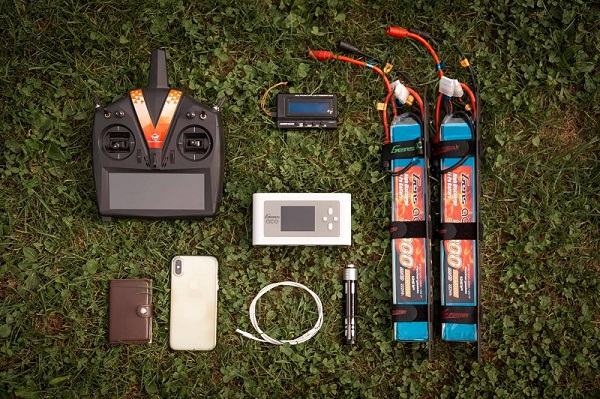 Here you will find the basic parameters and functions of the charger.
Gens ace Imars Dual Channel AC/DC Balance Charger, capable of 15 Amp charge rates, worldwide 100V-240V voltage versatility. The charging rate of Imars Dual are AC 200 Watts and DC 600 Watts. It is great to charge your FPV, RC Car and Drone Batteries.
Features that can't be ignored are the 2-in-1 charging and external discharge modes. The 2-in-1 feature provides fast charging of the battery to shorten your waiting time; the external discharge is more suitable for outdoor use, providing power support in off-grid environments so you can immerse yourself in the fall and comfort of driving your RC hobby.
Moe operating modes of the products include charge, discharge, balance, storage and digital power supply. Features Page: https://www.genstattu.com/gens-ace-imars-dual-balance-charger/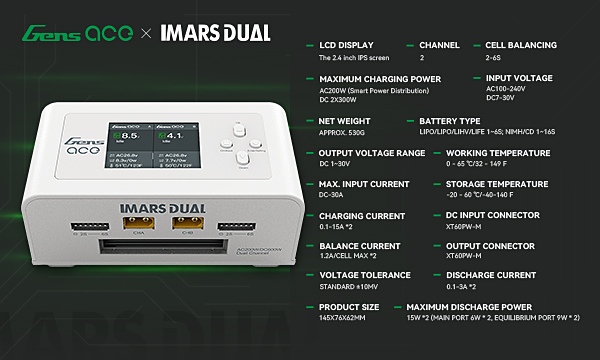 Convenience all the way! Popular, commonly used accessories: AC Input Cable / XT60-T adapter / XT60-EC5 adapter / XT60-EC3 adapter are also included in the box, so you don't need to spend extra time and cost to pick them up. It is our original intention to provide solid backing for the RC hobby.
Gens ace and Tattu have also started Affiliate Programs. This is the way of giving back to those that have supported us. With our affiliate program, you're able to earn a little extra spending cash to keep you on the trail, track or any adventure you may be on!
For affiliate detail, please click the link: https://genstattu.ositracker.com/myrefer