Yes, it's here! With only 9 days left until Black Friday 2021, we have delightful gifts for RC hobbyists and fans to get the ideal battery at the lowest price almost all year round.
Below you will find the full Black Friday & Cyber Monday campaign tips from the Gensace & Tattu Lipos USA Official Website in detail.
Products save 15% off
Up to 60% off flash sales

Cash back
Lucky Boxes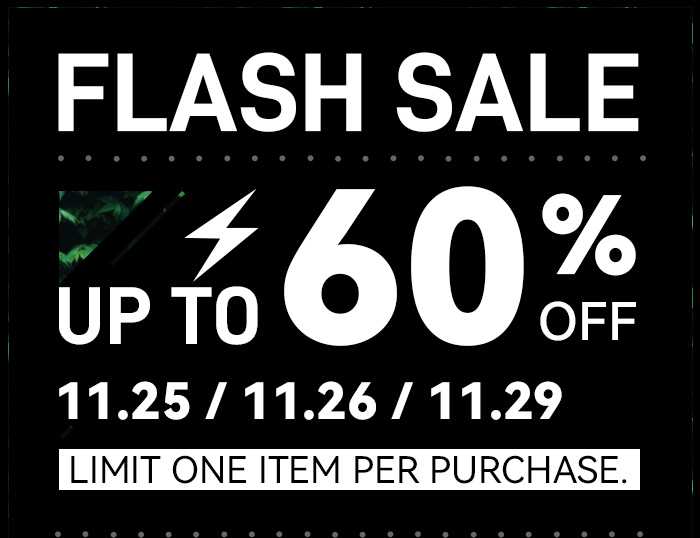 Note: All times stated in this article are in the UTC/GMT-8 time zone, which is CA time.
1. Products save 15% off
In addition to the flash sale, almost the whole site of RC Car, FPV Lipo battery packs, charger can enjoy 15% off, the time of this discount is advanced to Nov.22 and ends until Nov.29, providing you with a longer period of discount shopping time. Note that due to shipping constraints, the products are not available while supplies last.
2. Up to 60% Flash Sale
On Thanksgiving Day (Nov.25), Black Friday (Nov.26) and Cyber Monday (Nov.29), the flash sale will be available at 6 PM, with a maximum discount of 60% off and a limit of one set of Lipo batteries per customer. Please check the website on time to place your order, and be quick! Limited quantity, regular discount will be back after quantity is sold out. Limit one item per purchase.
This is a flash sale products disclosure, different series and products enjoy super savings, such as Bashing, Adventure, FunFly, R-line, Redline and IMars Charger.You can also pay more attention to the social media during the campaign to get more interactive information.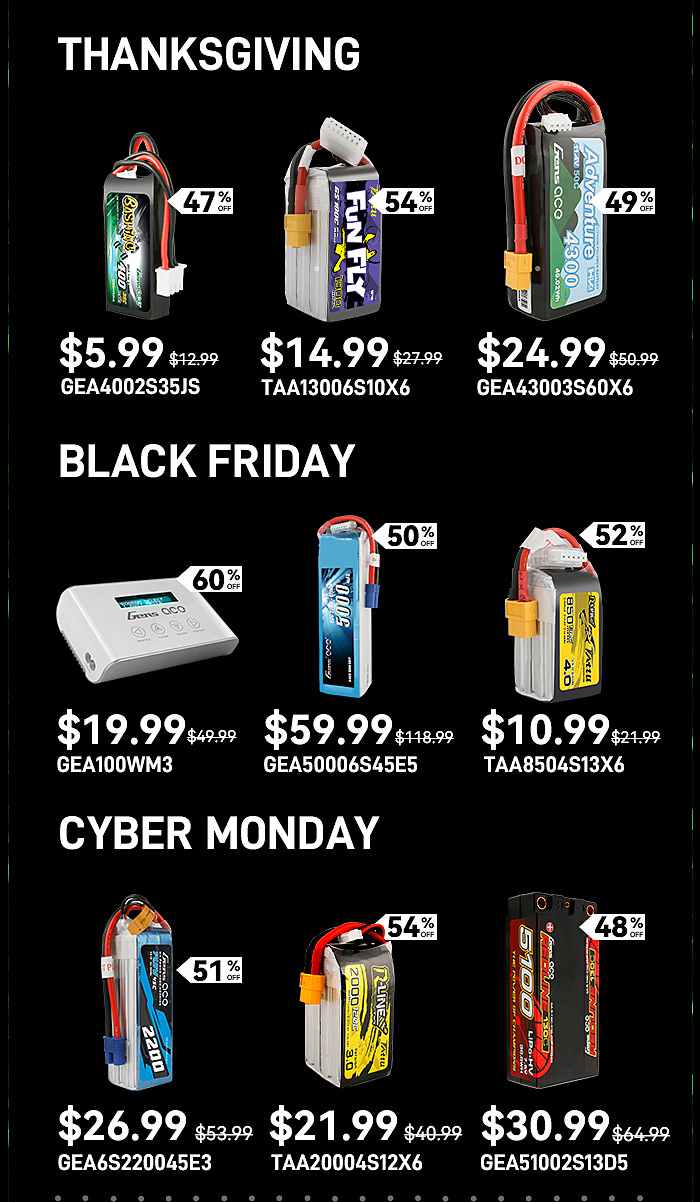 3. Cash back
During the campaign period, the website has been supporting the cash back activity will continue to be valid. Yes, you got it right! As long as you reach the full amount, you can continue to get the coupon and enjoy the additional offers. This Black Friday & Cyber Monday online shopping carnival will be your best choice to shop at Gensace & Tattu official website. You can:
Save10, $10 off orders over $110
Save20, $20 off orders over $198
Save35, $35 off orders over $298
4. Lucky Boxes
This is a giveback promotion after the shopping carnival. Customers who placed orders on Nov.22 to Nov.29 Black Friday & Cyber Monday Campaign will have a chance to win the gift. We will randomly select 2 lucky winners to give away $100~$200 worth of battery packs and related items, free shipping!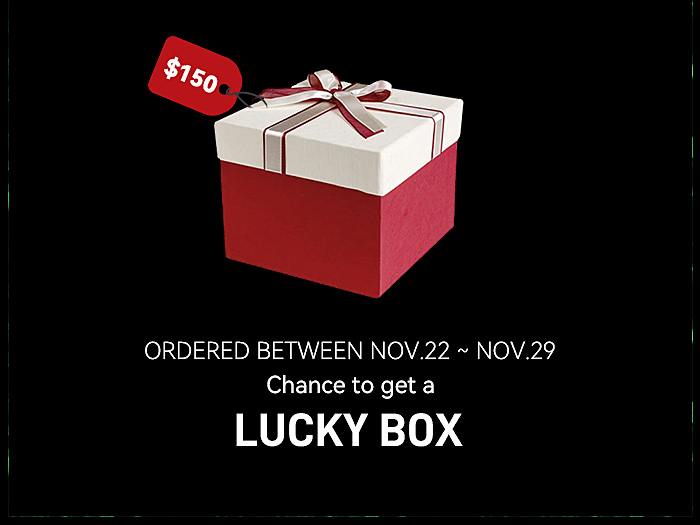 The results of the lucky winners will be announced here on Gensace & Tattu Blog, Facebook and Instagram, so keep your eyes on it, the box may come to your home.
Providing RC hobbyists, racers with high quality, safe, and energy-packed electricity has always been the goal of Gensace and Tattu. This Black Friday, our target is to give you a better shopping experience and passion. Whether you are a pilot, driver, fan, DIY guy, Gensace and Tattu batteries will work hard to power up your hobby and your work.
Follow Gensace and Tattu on Facebook and Instagramduring the campaign for more exciting information. Click to reach the home page to see the status. US Web: https://www.genstattu.com/
If you are located in Europe, please click on our European website: https://www.gensace.de/, there are also special deals for you. The European promotion will take place from Nov.24 15:00 to Nov.28 15:00.
Stay tuned and look forward to it!!
Facebook: @GensAceGlobal @Tattulipos
Instagram: @gensacebattery @tattulipos